Ancestry.com Charts and Forms
(External link)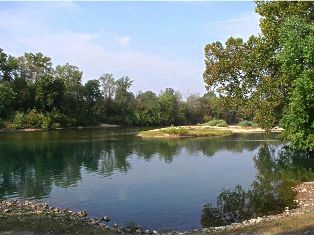 Photo courtesy of Ruth Gallion Casteel
This site is part of the USGenWeb Project which is a volunteer genealogical organization dedicated to the free access of genealogical information.
ABOUT RIPLEY COUNTY

Ripley county was organized January 5, 1833, from Wayne County and is named for Eleazer W. Ripley, a soldier of the War of 1812.

The County Seat is located at Doniphan, Missouri, and is divided up into the following political townships: Pine, Kelley, Jordan, Johnson, Sherley, Doniphan, Flatwoods, Washington, West Doniphan, Varner, Gatewood, Union, Poynor, Harris and Thomas.

The Current River runs through the middle of the county. Like it's neighboring counties to the north, it is a popular resort area for fishing, float trips, and canoeing. Ripley County is rich in heritage and I am proud that my ancestors made Ripley County their home.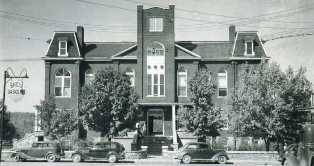 Courthouse
Then ....

Death Records Database
(External link)



Family Group Sheets

First Families

Ghost Towns
History
Home Pages

County Records

Genealogical Forms

Subscribe to a genealogy e-mail list for Ripley Co MO (mail mode).

Ripley Co. Historical Society

Books by Thelma McManus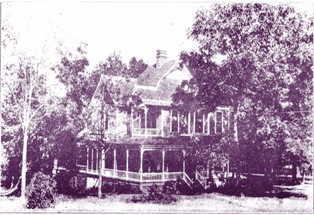 The Grand Hotel AKA The Ireland House

Current River Heritage Museum - Doniphan, Mo. - 573- 996-5298.
The Museum opened in 1991 and is a regional history museum housing a collection of artifacts and memorabilia dedicated to preserving the cultural heritage of our area.
Ripley County Library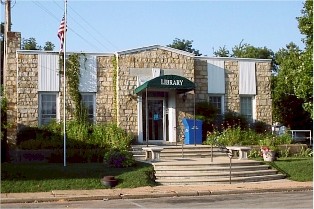 207 Locust St,
Doniphan, MO 63935
(573) 996-2616
PUBLIC SERVICE ANNOUNCEMENTS
to Submit Information
County seat: Doniphan
Doniphan Missouri...
Historic Doniphan, MO was settled in 1819 near an Indian village and French trading post. Its historic district is centered around the Ripley County Courthouse and other buildings, all on the National Register of Historic Places. It is on the first federal highway west of the Mississippi River, and on the famous Cherokee Trail of Tears. Civil War sites are in every corner of the county. A downtown historical museum and gift shop displays many artifacts and crafts.
The City of Doniphan is located near the center of Ripley County on the East bank of the Current River. Ripley County is located in the Ozark Foothills region of Missouri near the Arkansas border. The County is bordered by Butler County to the East, Carter County to the North and Oregon County to the West. To the South are the Arkansas counties of Randolph and Clay. Doniphan lies approximately 30 miles West of Poplar Bluff, Missouri, 10 miles North of the Arkansas border, 180 miles East of Springfield, Missouri, and 180 miles South of St. Louis, Missouri. U.S. Highway 160 runs East/West thru Doniphan, as do two State Highways, 21 and 142.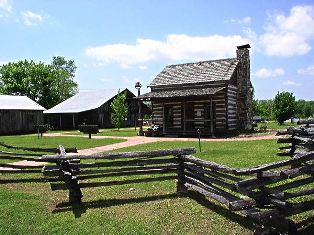 Pioneer Heritage Homestead -
Doniphan (101 Washington St.). Log cabin museum built in 1865. Homestead also houses a log barn and an early blacksmith shop. Open year-round - Free - 573-996-5298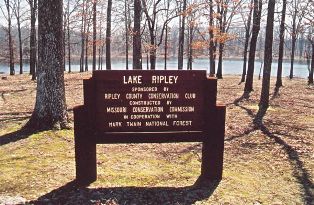 Lake Ripley - Doniphan
photo credit White Daisy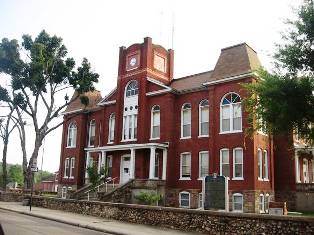 Courthouse
.... & Now

GAS STATIONS OF YESTERYEAR

Land Records

Lookup Volunteers

Maps

Marriages

Memorials

MESSAGE BOARD

Military Records

My Missouri Genealogy
(External link)
Roadside Flowers
Obituaries
Ozarks Genealogical Society
(External link)
Newspapers


Midwest Gazetteer
Photos
Mystery Photos
Political Graveyard
Queries
(External Link for CousinConnect)


Resources
Reunions
Schools
Surnames

Vital Records